Good Governance and Basic Advocacy training workshops in Herat province
A five-days training workshop on Good Governance and five days Basic Advocacy training workshop for local youth and provincial council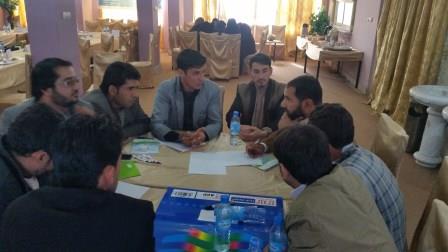 members were held in Herat City; respectively, from 4th – 8th and 25th – 29th October 2015 and was funded by Oxfam Novib. Participants were consisting local youth of Karokh district, provincial council members and governmental officials of Herat province. 40% of thirty participants were women.
PTRO is working the youth and elected members to promote governance through advocacy in three provinces; Herat, Nangarhar and Takhar. These workshops will be followed by public campaigns that will provide a space for the youth to peacefully engage with their local state bodies and contribute to responsive policies at local level. The main aim of this project is to mobilise youth through building their capacity on effective good governance and advocacy skills for a positive change in their communities. PTRO strongly believes that this will help to channel grievances of the youth in positive way rather than ignoring them that normally leads resorting to violence or joining radical groups.
PTRO appreciates active participation and enthusiasm of the youth in Karokh district and thanks the provincial council members for their support and participation.
© PTRO 2010. All Rights Reserved
PTRO is registered with the Ministry of Economy as PTRO-Peace Training and Research Organisation: Reg #1874